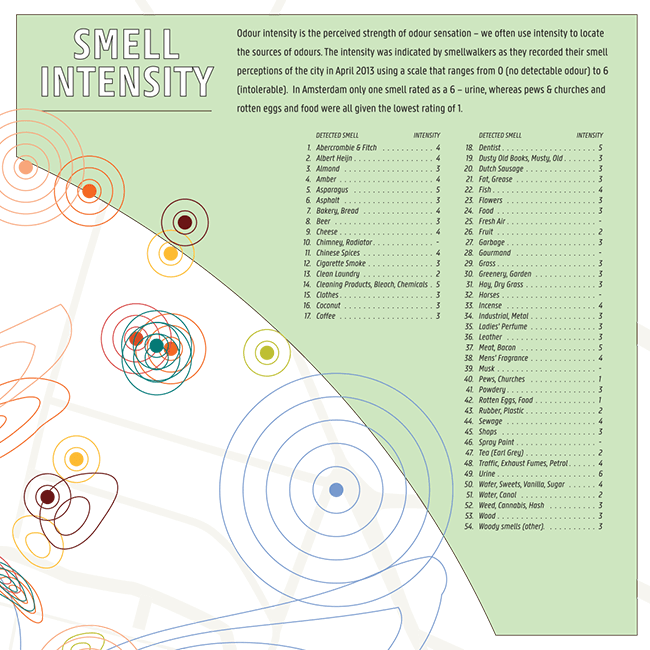 Smells form part of our knowing, but are elusive, often disappearing before they can be pinned down. Smell perception is an invisible and currently under-presented dataset with strong connections to emotions and memory. Project launched by Kate McLean, who is part of a small but growing number of innovative practitioners committed to the study and capture of this highly nuanced sensory field.
From her website:
'A smell! A true Florentine smell! Every city, let me teach you, has its own smell!'

'Is it a very nice smell?' said Lucy, who had inherited from her mother a distaste to dirt.

'One doesn't come to Italy for niceness,' was the retort; 'one comes for life. Buon giorno! Buon giorno!'

― E.M. Forster, A Room with a View

The smellscape of our world is in constant flux and contemporary cities are in danger of losing their distinctive stinks (Henshaw, 2014). Smells come and go, meandering amongst architectures, vehicles and nature, between people and their everyday routines, indexing rhythms, life and activity within the contemporary, vernacular urban fabric but rarely do we pause to consider or remark on their presence nor on their absence. The invisibility of smell, both as a physical entity and as a social construct in the prevailing sensory order (Howes & Classen, 2013) has led scholars to call for further study in how the urban smellscape may be detected, recorded, stored and communicated (Drobnick, 2002). Smells are easy to ignore, they have a propensity for absence, and are ephemeral, disappearing swiftly, volatilizing, hitchhiking rides on the air currents that meander and swirl through the multi-faceted grid of the city.
Sensory Maps is a project by Kate McLean, PhD candidate in Information Experience Design at the Royal College of Arts, London.