Gyms in Dar

KUNSTrePUBLIK and Jan van Esch
KUNSTrePUBLIK and Jan van Esch's artistic inquiry focused on a particular kind of male community space in Dar es Salaam: the home gym, realised ad hoc in someone's garage, courtyard or basement. In Dar es Salaam, the western fitness role models, while shown on posters and magazine collages in the local gyms, are not the driving force behind them. Western gyms are silent, individualistic spaces that are primarily concerned with the meditative aspects of body shaping. The homemade gyms in Dar es Salaam, on the other hand, serve as important social spaces, where members are granted access to community life, income opportunities and social status. We were interested in the way the gym groups came together under a common interest, and how they transformed small urban spaces into places of leisure. In our research we focused on the histories of each space, the economic structure, the tools available. How were they built? And most importantly, what are the stories of each community member? Critical of anthropological approaches that extract information and place it into a Western knowledge environment without leaving behind anything relevant to the community, we created a series of formal group portraits that we organised into a calendar, the proceeds from the sales of which will go to improving the equipment in the gyms.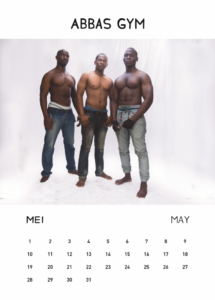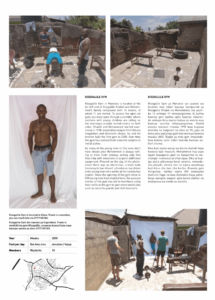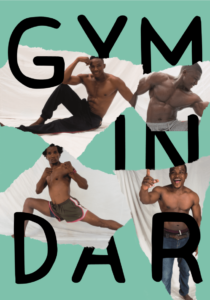 KUNSTrePUBLIK is an artist collective working in the public sphere, exploring the potentials and limitations of art as a form of expression. Composed of Matthias Einhoff, Philip Horst and Harry Sachs, the collective directs the ZK/U, the Center for Arts and Urbanistics, which hosts experimental projects to foster conversations between the diverse stakeholders of the urban arena.
Jan van Esch is currently part of the dis-placement artistic residency at the ZK/U, Berlin. Before moving to Germany, Jan worked as an artist and managing director of Nafasi Art Space in Dar es Salaam, Tanzania.